Many ERP software companies look to research firms, industry analysts, and visionaries for direction on future product initiatives. At Visibility we look to our customers.
Yes, as an ERP vendor, we need core functionality in areas like financials, inventory control, and procurement and planning, sales, CRM, service, engineering. We also need to keep up with underlying technology, and in today's rapidly changing landscape, things like browser independence, touch-screen enabling, and mobility are all critical to our product development schedule.
But when your customers include some of the most innovative manufacturers in the world, I believe that you, as their ERP partner, need to be equally innovative. You can be, but only if you do one very important thing: LISTEN TO YOUR CUSTOMERS AND ACT.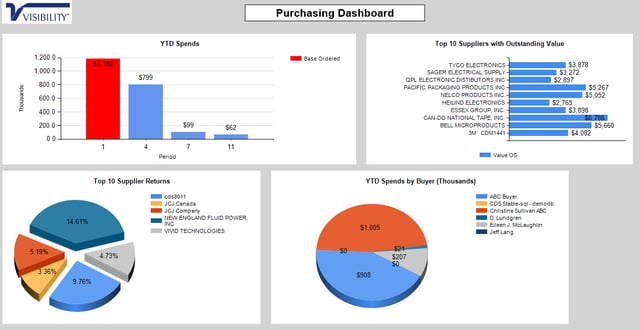 Last month we had our annual customer conference in Sonoma County. We had a chance to meet with and listen to some of the most innovative manufacturers in North America. At Visibility we have implemented a program where customer-funded development is done with our development team as part of the process. We then incorporate all development ideas possible into standard product. It may be a new feature or one that is an option which can be set on or off at a configuration level. But it will be in standard product and available in all future releases. An example of custom to standard functionality is the new Purchasing Dashboard available in VISIBILITY.net.
This benefits all of our customers, including the ones pushing their idea, in that they will not be isolated from future releases of our product with a custom flavor. They can count on continued support and often see their ideas for enhancements and features further expanded upon by other customers. It is a win-win. Visibility gets new functionality and features not created out of market research but by real life customer requirements. It makes us customer-driven.
Our unique approach to customizations has given us the ability to be true partners with our customers. By moving those custom requests into standard product, creative ideas and innovative solutions born by customer visionaries are part of our product and available to other customers. Some are small, like new reports and inquiries, others bigger like whole modules and capabilities.
This defines customer-driven and makes Visibility unique among its ERP competitors. At our conference I was lucky enough to interact with many of our clients and the feedback was our approach not only made us unique in the ERP world, but was also one of the huge advantages to our partnership.
To learn more about how Visibility serves its customers read about our customer success stories here.