Business Intelligence provides you with the tool-set for tailored reporting and analytics, thereby allowing you to control the information you see and need precisely at that moment. Business Intelligence solutions are designed with a best practice architecture that facilitates speed to deploy and flexibility to accommodate unique measurements for your organization.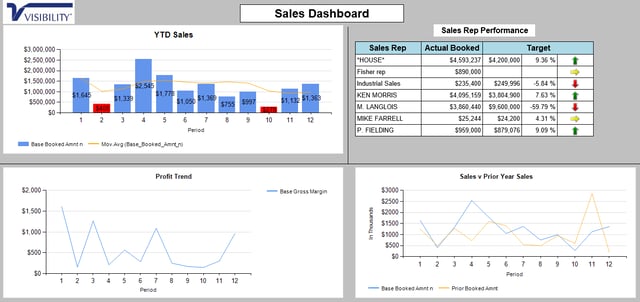 An example of one of the BI dashboard created by Visibility's BI solution.
For a manufacturing company, the management of inventory is of the utmost importance.
Effectively managing inventory and keeping and driving costs down are crucial to gaining a competitive advantage. When materials managers gain access to the right information on a timely basis, they have the opportunity to find new insights about usage, costs, customers, obsolescence and materials operations and can take action to improve business performance.
The integrated nature of most Inventory applications and associated databases with ERP and other business applications typically generates high volumes of important data. Retrieval and presentation of this data has historically been in the form of reports. Although they contain a lot of information, the structure does not lend itself to analysis, interpretation, and action.
The solution is often Business Intelligence.
Business Intelligence helps you analyze what's driving your business with information presented in a way that makes sense including; bar charts, line graphs, pie charts, spreadsheets and dashboards. It is organized to enable you to quickly yet comprehensively explore your information by viewing it with and from multiple dimensions. Navigation is easy and the ability to slice the data into additional views and increasing detail is all a part of the solution.
Users can readily generate drill-down reports and graphs, to identify trends that cannot usually be seen through standard reporting solutions that may have come with your Inventory application.
Additionally, Business Intelligence allows users to define their own queries or metrics and share it over the web for review by other users. By providing users with the ability to analyze inventory performance in real-time using metrics tailored to their unique environments, the Inventory Analyzer provides real-time business intelligence. The result is an unprecedented level of access to critical data so inventory and materials managers can best serve the business.
Learn more about Visibility's Business Intelligence solution here.