Our Warehouse Management Sytem offers many unique benefits that allow shop floor users to efficiently and accurately perform real time transactions from the shop floor.
Our WMS eBook offers a Warehouse Management System Product Tour that walks you through our top four features described below. To take a look at our WMS module, be sure to download our WMS eBook.
Simple, Big Button UI. We keep our WMS menus simple with just the options you need on the shop floor. Large menu buttons ensure that shop floor users can quickly and easily make the transactions they need without spending too much time maneuvering through the system.

Streamlined Material Receiving. WMS allows you to scan barcoded materials as they are received to the warehouse instead of manually entering receipt data from your office. This real-time transaction allows receipts to be reconciled against purchase orders without the paperwork and materials to be moved into the stockroom and onto the shop floor faster.

Simplify Capturing Production Details. Post move tickets to your VISIBILITY.net system as they happen. WMS allows you to capture shop floor activities, including labor, machine time, quantities, failures, reject codes and more, in real-time. This ensures the most accurate, up-to-date monitoring of costs.

Provide Seamless Bar Code Data Collection. Everything from work orders to reason codes to stockroom bins and more can be barcoded with VISIBILITY.net's WMS. Using handheld devices to scan bar codes versus manually entering data eliminates the risk of human error out on the shop floor as workers are quickly moving from one project to the next.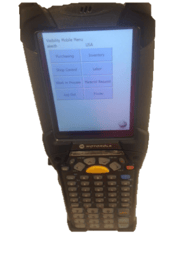 Download our WMS eBook by clicking on the button below or click here to visit our mobility page to learn more about going mobile with VISIBILITY.net.