As many of you know, Visibility moved to a new space last November. What you may not know is how special and unique our new corporate headquarters space is.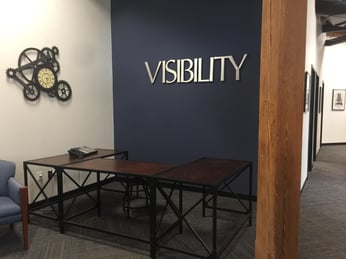 Pictured Above: A Look Inside Our New Corporate HQ
When we first saw the space it was completely gutted, a blank canvas for us to dream up where we would spend our next chapter. It was hard to imagine what it would look like then, but the exposed brick and beam and the expansive windows was enough for us to want to call it home. With some long days spent taping out office space and going over architect plan after architect plan, some minor bumps along the way, it came together in a few short months. We are proud and excited to call this new place "home".
First, this place is rooted in the very industry we serve – manufacturing. Our new home is in a converted mill that used to house the Davis & Furber Machine Shop. The company was known as leading the supplier of looms and spinning equipment to the textile industry for 150 years until 1982.
After Davis & Furber vacated the space, it became the Converse Headquarters. Founded in 1908 in Malden, Massachusetts, Converse was known as one of the leading athletic shoe companies in the world, perhaps best known for the famous Chuck Taylor All-Star sneakers that you would see athletes like Larry Bird sporting.
Eventually Converse's business began to decline with the arrival of athletic companies such as Nike and Reebok. In 2001, Converse declared bankruptcy and two years later was bought by Nike for $305 million. Since being acquired by Nike, Converse has transformed itself into a lifestyle shoe company – you now see Chuck Taylors on just about everyone from musicians to athletes to kids at school.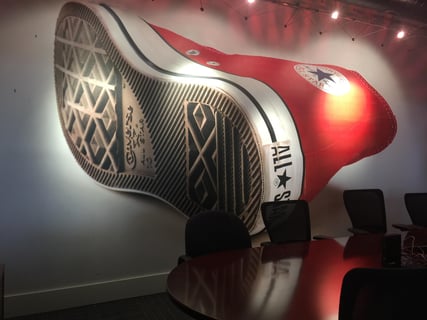 Pictured Above: Our "All Star" Conference Room
In 2015, Converse made its move to its new headquarters in Boston, leaving the North Andover Mills open and ready to be developed into something new. Now, it's home to Visibility and it's our turn to make our mark on its history.
There are still many pieces of Converse left throughout the building – company values, photos from past marketing campaigns, inspirational quotes. Our conference room which we refer to as the "All Star" conference room has one wall that is completely covered in a Chuck Taylor All Star sneaker. We love having these reminders of the history of this building as well as the great success Converse has seen in recent years.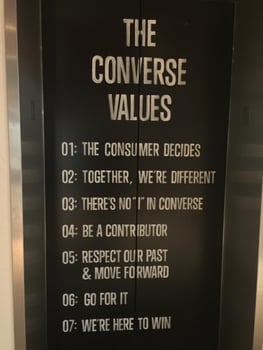 Pictured Above: Pieces of Converse History Through the Building
However, we've also had the chance to make it our own. Our new facility offers us access to the best technology and state of the art training facilities. We are also surrounded by some great restaurant, retail, and entertainment options. We hope that whenever our customers are in the area that they will consider coming by to visit us and see the new space!
To learn more about our ERP product, click here.