This is the first in our industry focus based ERP series. The series will highlight the customer successes in a specific industry or niche manufacturing segment. We'll focus on the relevant ERP functionality that an industry or market requires and how an ERP solution can address the unique needs of each of those industries. For our first edition, we thought we would stay local and focus on the requirements of a New England based water control gate system manufacturer.
This particular industry focus article might be of interest to make-to-order and engineer-to-order manufacturing companies who build products for treatment plant operators, municipal water systems, environment control systems, water treatment, wastewater, high-volume agricultural and rural surface water delivery, hydro-power, and flood control management. Companies involved in the manufacture of water control products, sluice gates, penstocks, stop logs, flap gates, mudvalves, engineered water filters, valves and automated controls can see great value and benefit in a deployment of an ERP system with specific industry functional depth.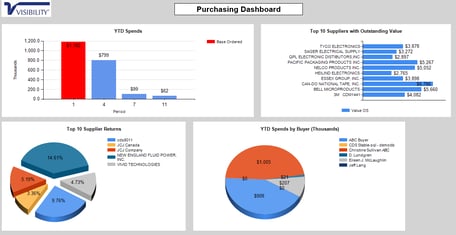 So, what does a water control products ERP solution look like? Well, we'll focus on four functional areas that are of critical importance.
The solution must be rooted in Engineer to Order (ETO); meaning that from an engineering perspective there must be robust support for project management, deep bills of material, engineering change control, Engineering Product Data Management (EPDM), document management, engineering workflow, revision control and material traceability.
Order Processing. Water control products manufacturers require strong CRM and front-end quoting solutions. Often times, companies manage job estimating in offline spreadsheets. Those can now be replaced by native estimating functionality to support pricing, costing, margin, markup, version control, change orders, job profitability, numerous cost buckets and varying markup percentages by cost bucket, labor or material.
Material Control. Running MRP by project or job, multi-level order pegging, purchasing specific to project tasks and project inventories, location control and warehouse management functionality are but a few examples of what water control products manufacturers are looking for in an integrated ERP solution.
Project Management and Accounting. Water control products companies often are managing very long programs and projects with their customers, contractors and engineering services firms. To support that, built-in functions that support these long term engagements are key. ERP systems with this type of industry focus should deliver excellence in contract management, revenue recognition, progress payments, project performance, earned value, estimate at / to completion and project accounting dashboards and key performance indicators.
We hope you have enjoyed reading our first of many industry focus articles. Subscribe to our posts so that you will receive notifications on future industries!
To learn more about Visibility, please visit our website. Or to have a Visibility representative contact you, simply provide us with some basic contact details and we will follow up shortly. You can also learn more about our industry focus here.