A key part of an ERP solution, for the Engineer to Order (ETO) manufacturing company is the ability to manage quotes and estimates.
Let's start with defining both of those functions. A quotation is typically the customer facing document that details terms, conditions, products, services, timing and pricing. An estimate is the internal, supporting document to capture material, labor, outside services, margins and markups.
In the Engineer to Order ERP world, often times companies will manage the quote in one system and the estimate in another. Perhaps the quote is in an ERP solution or perhaps it is a simple word document. The estimate is typically managed in an Excel template of some sort.
But with an ETO ERP solution, those two functions can be integrated and combined and can offer some significant efficiency improvements to the overall quote to order business cycle. Quotations can provide users with the ability to manage: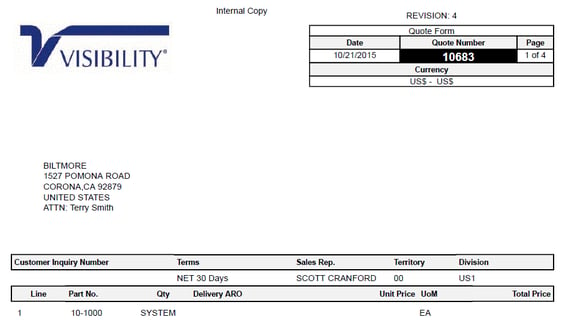 While the internal estimate, used to work up the details of a quote would contain:

Ideally, when the estimate has been completed, the parent quotation is updated to reflect the pricing, costs and profit margins so that the company can ensure that all quotes that are delivered to customers exceed a certain margin level. And, completing the business cycle in this particular area, that update quotation can simply be copied into a new sales order upon receipt of a customer PO. Certainly, if the volume of quotes and estimates is significant enough, integrating these two functions and eliminating redundant data entry steps can be a tremendous process improvement.
To learn how Visibility can solve your quoting and estimating needs, please visit our ERP solution page.