Does Your ERP Fulfill All of Your Mixed Mode Manufacturing Needs?
By: Scott Cranford
Engineer to Order? Make to Order? Make to Stock? Repetitive? Pure Distribution? If you are like most small and mid-sized manufacturing companies, one size does not fit all. Those companies are often considered to be "mixed mode".
So, what might your ERP solution look like if you are some or all of the above? Well, it might look like this…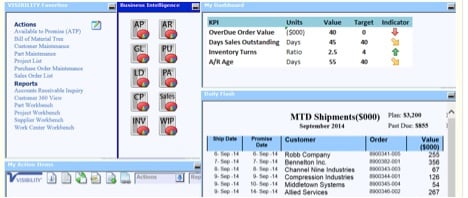 For Engineer to Order (ETO), ERP solution require deep functionality in projects, jobs, quotes, estimates, costing, billing, revenue recognition, design management and aftermarket service. In the Make to Order (MTO) space, software needs to have similar functions as ETO but far greater depth in job tracking and possess specific features like capable to promise (CTP), available to promise (ATP) and also to provide robust finite scheduling so as to optimize all resources and machines.
If there are aspects to your business that are more repeatable in nature or perhaps production line oriented then an ERP solution that supports the classic Make to Stock (MTS) is often warranted. Strong functionality would include repetitive production lines, Kanban management, inventory optimization, backflushing, work order-less production, stock pricing, ATP, forecasting, Engineering Change Control, lot / serial tracking, actual and standard costing and strong order fulfillment and backorder management.
Then there is the "in between". It's custom but based upon some standards. For that, a parametric Product Configurator might be in order. This configurator would allow sales to process orders based upon a template that consists of options, features, rules and formulas to come up with a unique product, BOM and routing. This Configure to Order (CTO) mode is often applicable when some amount or limited customization is available.
Any of this sound familiar? If it does, then you are likely a classic mixed mode manufacturing company. Click here to learn more about solutions for each.