For a manufacturing or distribution company, users require mobile applications to support managing time and attendance, inventory movements, production reporting, and inventory transfers. This internal mobility empowers the mobile worker to capture real-time manufacturing information via most web-enabled mobile devices or bar code data collection devices. VISIBILITY.net offers the mobile user two options: Warehouse Management System (WMS) and VisMobile.
Warehouse Management System (WMS)
WMS is a real-time web application that allows shop floor transactions to be run on most web-enabled mobile devices. With WMS, VISIBILITY.net ERP software users have the ability to use a wireless bar-code scanner to execute various transactions including: warehouse and location transfers, cycle counts, physical inventory, purchase receipts, material request fulfilment, work order moves, and paperless Kanban. WMS is made easy with on screen prompts, automatically populated data, and preprinted bar codes, which eliminate manual data entry.
Transactions
Shop Floor Moves
Inventory Transactions (Cycle Count and Physical Inventory)
Part Query for Qty/Bin
Labor Tracking
Demand/Issue
Purchase Receipts
Part Labeling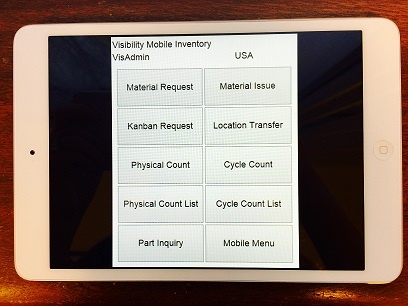 VisMobile
VisMobile.net is intended to address the needs of manufacturing shop floors with the necessity to control Employee-Badge and Time-Clock data entry in a multi-shift 7x24 environment. Through VisMobile.net employee time can be collected on a real-time basis. This solution lets shop floor employees enter time directly into VISIBILITY through the use of a barcode scanner.
Transactions
Attendance (Shift) Clock-In/Out
Serial-Mode (Single-Job-At-A-Time)
Automated "Snap-To-Paid-Time" Adjustments for Attendance Clock-In/Out
Automated Generation of Indirect Charges for "Between-Jobs-Gap-Time"
Automated Notifications for Early/Late Attendance Clock-In/Out
Automated Generation of Holiday Charges
Automated Supervisor Clock-Out-All Function
Automated Supervisor Correction Function
It provides shop users with the ability to perform keyboard-less labor entries. VisMobile supports attendance, timesheet, and time-clock methods as well as supervisor approval functionality via standard VISIBILITY.net timesheet forms. VisMobile has been developed using the VISIBILITY.net architecture, Visibility's platform for the next generation of VISIBILITY ERP.