Transcore of Harrisburg, PA is the largest global manufacturer of transportation based Radio Frequency Identification (RFID). Transcore's Amtech Technology Center has employed VISIBILITY 6 as their ERP system of choice for the past 15 years. Despite the successes of VISIBILITY 6 within Transcore, their requirements and expectations of their technology solution changed as the company grew. With this in mind, the decision to upgrade their system to VISIBILITY ERP ERP was easy to make.
The core project team at Transcore felt that VISIBILITY ERP incorporated significant enhancements and efficiencies over the current system; however senior management felt it had to be about more than functionality; tangible fiscal benefits and a proven return on their investment were the primary objectives. Dennis Wilson, Director of Finance and Project Leader of the upgrade told us, "The approval of this project was based on several criteria, not the least of which is the expected financial return. The initial expectation was that the annual cost of manufacturing operations will be reduced by no less than 1%, by lowering our on-hand inventory requirements and improving our material handling and manufacturing efficiencies."
Transcore's decision to upgrade to VISIBILITY ERP was based on a number of detailed objectives identified as the result of a comprehensive ROI analysis inspired by an ROI session at the Visibility International Conference (see table 1). In addition to the benefits identified during the ROI analysis, Transcore was looking to move to a system that utilized the latest web based Windows technology. The flexibility of the technology has allowed the VISIBLITY.net to be designed as Sarbanes-Oxley Compliant and incorporates both workflow and document management capabilities thus enabling Transcore the abililty to eliminate add-on applications and "work-arounds". Dennis and his team now have access to this new functionality and much more in VISIBILITY ERP which would ensure that their fiscal and performance targets could not only be met, but beaten.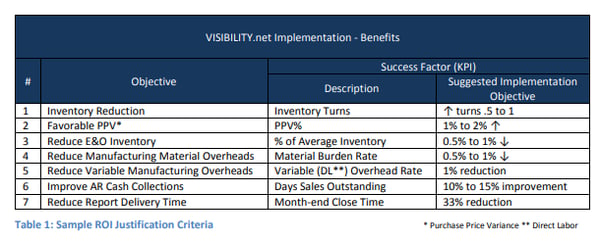 On a more functional level, the clear benefits of VISIBILITY ERP to the Transcore team covered a number of areas including; sales & service, finance & accounting, manufacturing, product engineering and production & procurement. Key benefits from these areas extend from progress billing with automated invoicing to order entry which allows for parent/child company structures and on to scheduling tools and pegging information to improve inventory usage and identify overstock potential ahead of time.
Since the original presentation to senior management, additional cost benefits have been identified. Further financial and engineering efficiency improvements should account for over an additional .25% in annual cost savings.
VISIBILITY ERP is a cutting edge technology enterprise solution which enables your business to significantly optimize business effectiveness and dramatically enhance performance. It is the only fully integrated web-based ERP software developed to specifically meet the unique needs of manufacturers of complex products.
Visibility Corporation has been developing business solutions for manufacturers of complex products since 1988 and now has an installed base of more than 20,000 end users and over 200 manufacturers around the world. Visibility is recognized worldwide as a leading ERP vendor and one of the few that has retained a genuine niche focus. The company's strategic concentration and dedication to growing profitably has ensured consistent financial health allowing for continuous investment in product development.