Visibility is excited to announce that we are releasing our very first eBook today! The topic of our first eBook is Business Intelligence in Manufacturing and will explain what BI is and why you need it.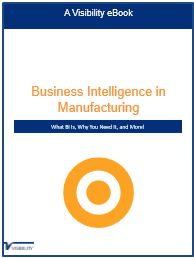 Top Reasons to Implement BI:
Empower business users with tools to spot and explore trends
Provide consistent data across the organization so users spend less time reconciling differences
Reduce workload and impact on transactional systems
Users can perform ad-hoc analysis through a drag and drop functionality
Want to see more reasons your manufacturing company cannot wait another second to implement BI? Click on the button below to learn how you can download our newly released BI eBook.
To go along with our BI eBook, we have also created a short video featuring a customer testimonial from a customer that successfully implemented BI as well as a quick BI demo. After reading our Business Intelligence eBook, we recommend you check out the video to see what you read about in action.
We plan on releasing more eBooks in the coming months. Do you have a topic you'd like to see Visibility feature in future eBooks?! Please let us know by commenting below or
reaching out to us here
.